BACK
Balancing business and motherhood with virtual assistance: Katie's experience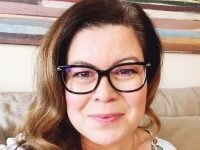 Quick Facts
Role
Social media and marketing assistant
Hours provided to date
622 hours
Top skills
Copywriting, social media management, graphic design.
Meet Katie
Meet Katie, a super talented mom with a passion for graphic design. She left the workforce to raise her kids and started a successful fiber arts business teaching others how to make rugs with a punch needle. But as her kids got older, Katie wanted to get back into using her education and skills in graphic design, so she decided to explore the world of virtual assistance to supplement her income.
The Search
As a mom who had left the traditional workplace, Katie faced the common challenges of gaps in her resume and lack of flexibility when searching for a new job. "A lot of Moms who have, left the workplace to stay home and then are trying to re-enter have found that there's some gaps in their resume that are sort of being flagged when they're applying for things," Katie says.
She was familiar with the concept of virtual assistants due to her involvement in the maker community, where they frequently hired VAs. This inspired her to explore the industry further, and she discovered Virtual Gurus. Her search stopped there because they provided her with exactly what she was looking for in a career.
Katie was drawn to the flexibility that being a virtual assistant offered, allowing her to manage her own business and also chauffeur her kids around. And with multiple clients, she knew it would be it interesting to work on different tasks and projects, making her work dynamic and never monotonous.
The Experience
Katie's experience as a virtual assistant has been an unexpected journey that's allowed her to rediscover her passion for creativity and connect with clients in a whole new way. Initially, she expected to focus solely on graphic design and social media management services, but she quickly found herself taking on copywriting projects for her clients as well. To her surprise, she discovered a natural talent for writing and enjoyed the work immensely.
Through her experiences with Virtual Gurus, Katie has been able to showcase her versatility as a virtual assistant and build her skills in copywriting, newsletter creation, social media writing and website development.
As a new VA, Katie initially struggled with setting boundaries. She found it hard to say no to task requests and frequent emails outside of her office hours, and started to worry about feeling burned out. But the VA Community came to her rescue. Through a Lunch and Learn session provided by the Virtual Gurus Community Leaders, Katie learned key strategies for setting boundaries with clients. It was a lightbulb moment that helped her establish a healthy work-life balance and become a more effective virtual assistant.
Katie has become an active member of the VA Community Hub. Through it, she's found a valuable support network that's been instrumental in her success as a virtual assistant.
The Impact
One of the things Katie appreciates most about being a virtual assistant is the flexibility it provides fpr balancing her career with her family obligations. She also loves that Virtual Gurus has matched her with multiple clients who need and appreciate the skills she brings. Those resume "gaps" quickly became a non-issue. Katie has been able to build a career she's passionate about while still being there for her family.
Katie's advice for those considering applying to become a virtual assistant is to evaluate their existing skills, apply, and leverage the support of the Virtual Gurus team to navigate challenges. "Don't spend thousands of dollars on how to be a VA. Evaluate the skills you already have and just apply!"
Katie's experience as a virtual assistant has been life-changing. Through her hard work, dedication, and support from the Virtual Gurus team, she's grown her skills all while caring for her family and maintaining her small business. She encourages everyone apply, so they too can experience the satisfaction and flexibility of being a virtual assistant while advancing their career and balancing their personal commitments.