BACK
Why hire a virtual assistant? (+14 signs it's time to invest)
With hybrid and remote working models here to stay, more and more businesses are seeking out support from virtual assistants. Many leaders have realized that hiring virtual assistants is a brilliant, cost-effective fractional talent solution that contributes to higher workplace efficiency and creates team capacity for accelerated growth.
In this article, we will help you decide if hiring a virtual assistant is the right decision for your business. We have unpacked common challenges that you may experience as a business owner related to time management, recruitment, business growth, operation costs, and personal well-being and how hiring a virtual assistant can not only ease these struggles but also contribute to the productivity and profitability of your growing business.
Time Management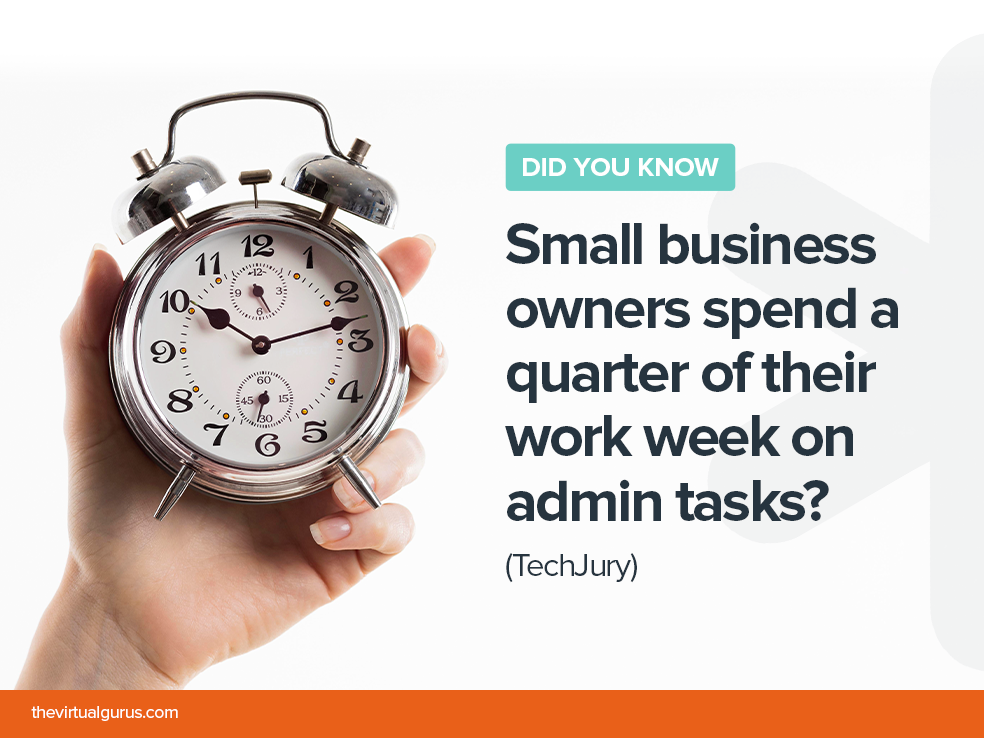 Effective time management is key to the success of any business, but many leaders and business owners find it difficult to balance competing demands and make time for all of the essential tasks it takes to run a business. If any of these signs resonate with you, it may be time to invest in a virtual assistant to help you get your business back on track.
1. You're struggling to meet deadlines
Do you have a calendar full of meetings between big project deadlines and an overflowing inbox? Are you struggling to find the time needed to feed your social media channels with daily content while also handling ongoing operational tasks? Are some of those important project deadlines slipping? A missed deadline doesn't only affect your productivity; it can be costly, especially if it causes you to lose a customer.
A virtual assistant can easily step in to take care of those daily operational tasks your business needs so that you can tackle core tasks and stay one step ahead of all future deadlines.
2. You're spending too much time on tasks that don't generate any revenue
According to TechJury, small business owners spend a quarter of their work week on admin tasks. Do you or your team members contribute to this statistic? Working hard on administrative tasks leaves you little time for the revenue-generating tasks that really require your expertise. Admin tasks like arranging internal meetings, organizing files and documents and taking care of month-end bookkeeping are time-intensive but don't contribute directly to the bottom line.
Hiring a virtual assistant can help you use your time and expertise more effectively to focus on generating sales while the virtual assistant takes care of the administrative side of your business operations.
3. You're spending too much time on things you're not good at
Need a photo for your website edited with Photoshop but don't know how? Looking to optimize your social media posts to reach a bigger audience but aren't sure what that takes? Want to start a blog for your business but don't consider yourself to be a grammar guru?
Stop spending time trying to figure things out and start delegating all the tasks that require niche expertise to a virtual assistant who specializes in those areas. A specialized virtual assistant will not only be able to complete these tasks more efficiently but they can also often provide higher quality work due to their unique expertise.
4. Your workload is becoming too intense
Do you feel like all of your tasks are piling up? Social media management is much more than it seems on paper, and data entry is taking up all of your working hours. If your to-do list feels like it keeps getting longer and longer, it's time to hire virtual assistants.
Having an imbalanced workload that's pushing you to your maximum is not worth the stress, especially when there are virtual assistant companies ready to help. Many businesses have tasks outsourced so they can increase productivity, while virtual assistants help tackle the intensity of workloads.
Recruitment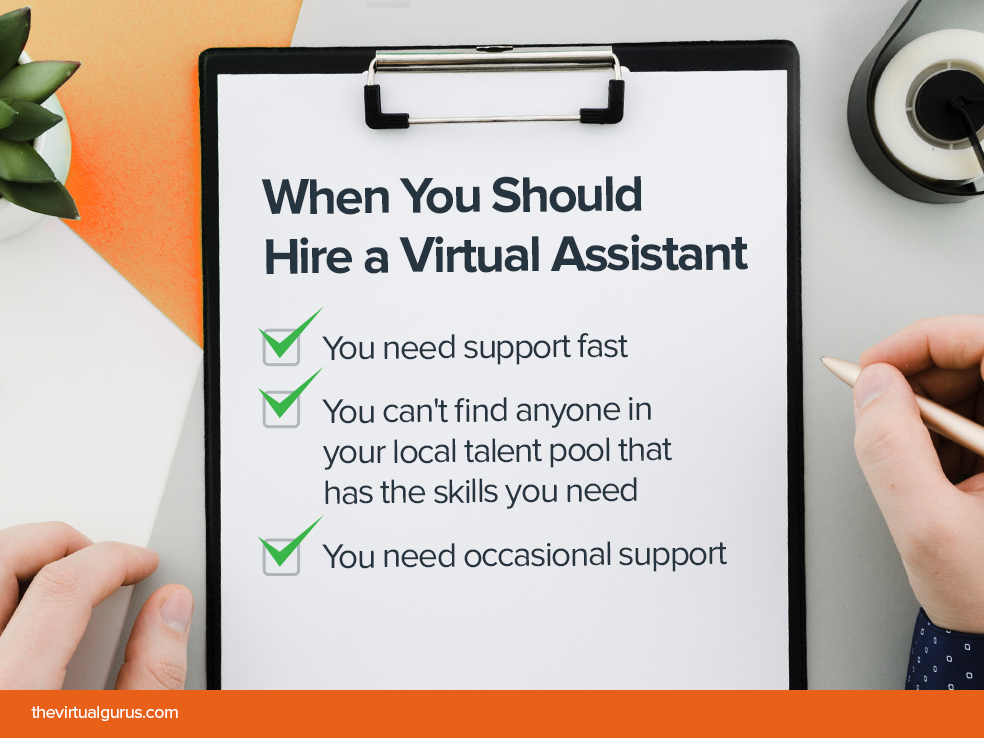 Sometimes increased workloads can come out of nowhere, making it challenging to meet all of your deadlines and address all of your business priorities. However, hiring new employees to take on the extra work comes with its own challenges. If any of these signs sound like the issues you're having with recruiting full-time employees, it may be time to consider hiring a virtual assistant.
5. You need additional support fast
Feel like your business is moving quickly and you're stuck playing catch up? From sales calls to managing your marketing and office administration, all the tasks you need for your operations can add up quite quickly. However, hiring full-time staff members can be a long and tedious process, and a difficult task to take on when you're busy trying to keep your head above water and your business afloat.
Luckily, virtual assistants can be onboarded efficiently and can get to work right away to assist you with your business priorities or free up your time to focus on your time-sensitive business goals.
6. You have a hard time finding the skills you need in your local talent pool
Need specialized support but struggle to find anyone in your area that checks all of the boxes? There's nothing worse than trying to hire a new employee but only finding individuals who lack the specialized skills your position requires.
Instead of spending all of your time searching for new full-time employees or settling for a new hire that lacks the skills that you need, you can find dedicated virtual assistants that are already knowledgeable in your field. Trained virtual assistants give you the confidence to delegate specialized tasks without having to worry about the quality of work. You also won't have to worry about spending all of your time training new employees or overspending on training costs.
7. A few extra hours of support is all you need
Are you in need of extra help but don't have enough work to hire an employee? Sometimes just a few hours of support can go a long way in easing your workload and helping you grow your business.
Virtual assistants bill for time spent on given tasks. When you hire a virtual assistant, you'll only pay for the work you need.
Business Growth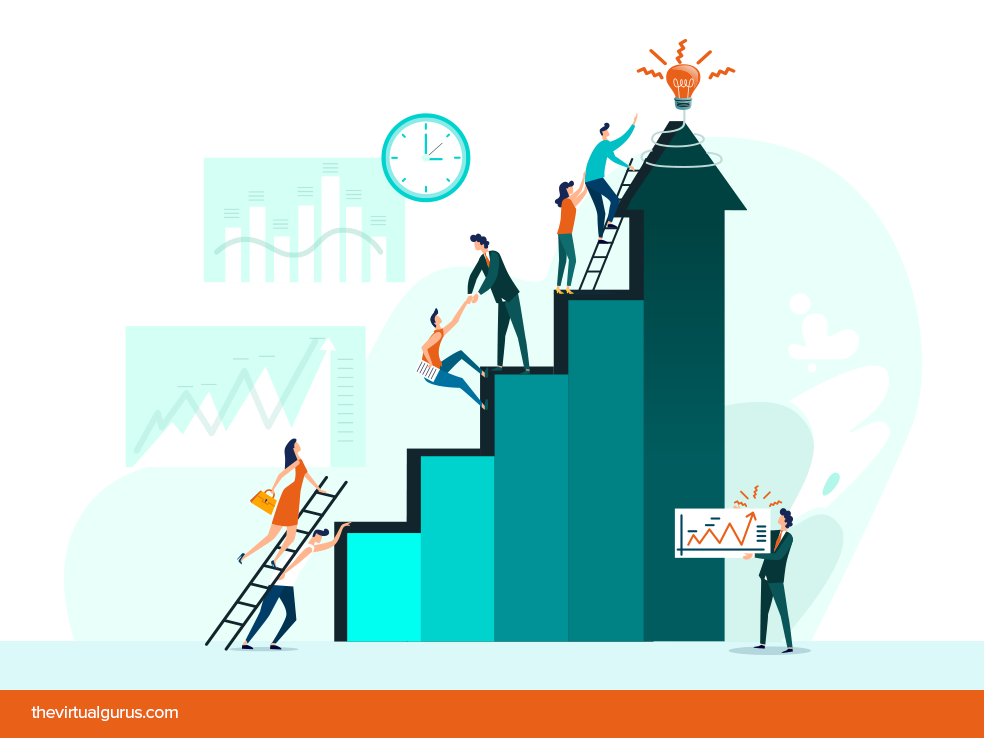 Although growth is an exciting step in your business's journey, it can be nearly impossible to scale when your workload is already at full capacity. If your business is experiencing any of the following growing pains, it's likely time to hire a virtual assistant.
8. You're ready to scale your business
Are things ramping up with your business, and you're ready to scale? Having a virtual assistant there to support you while you grow your business can alleviate a lot of the pressure that comes with scaling. Are your needs evolving rapidly?
With a flexible monthly VA package, you can add new VAs with different areas of expertise as you grow, increase or decrease the number of hours in your package, or switch the type of VA you work with.
9. You want to keep up with your competition
Feel like your competition is always one step ahead? Putting in more hours but feel like you still aren't moving the needle for your business? In today's digital era, staying on top of your competition is more important than ever.
You can work together with virtual assistants to stay on top of things like social media management and email marketing and find new ways to sweep the competition. Feel confident delegating tasks to virtual assistants who want your business to win just as much as you do.
10. You're in need of a fresh perspective
Do you want new ideas on how to grow your business? Or do you have an idea but don't know how to execute it effectively?
Welcoming the right virtual assistant to your team will introduce fresh ideas and perspectives to your business. Virtual assistants are a fantastic resource for coming up with new ideas and bringing them to life to support your business growth.
Operational Costs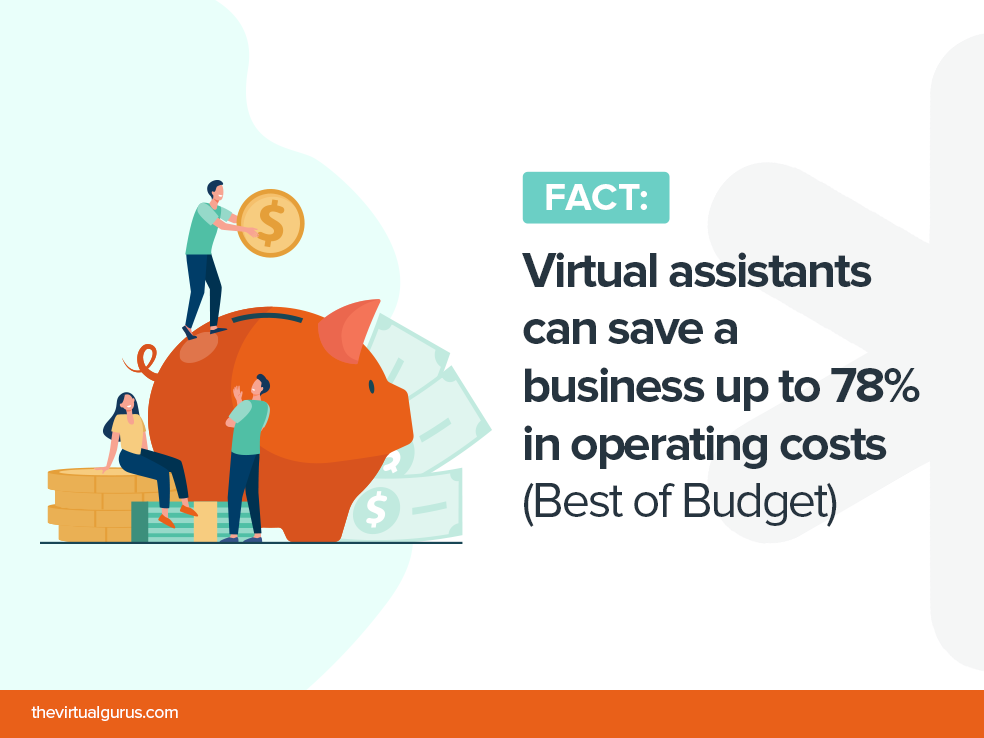 Saving on operational costs is one of the best ways for business owners to increase the profitability of their businesses. If you've been looking for ways to save money on your business operations, read some of the signs below and determine if hiring a virtual assistant is a smart move for your business.
11. Your office-related costs are limiting your profits
Do you feel like your office space and office equipment are cutting into your profits? Today, more and more businesses are finding success with remote working models.
One of the ways that you can save money is by hiring virtual assistants. VAs work remotely, saving you thousands of dollars annually in office-related costs. When you hire a VA, there's no need to purchase another desk, chair, or computer, or even provide a space for them to work. All of their work is accomplished in a remote location with their own office supplies and equipment.
12. You need support, but don't have the time or money to hire a full-time employee
One of the biggest reasons business owners do everything themselves is to keep the costs associated with having full-time employees at a minimum. We get it – time is money. We know that having a team of in-house, full-time employees can be costly (paying for vacation time, hefty salaries, office supplies, and employee benefits all add up). Additionally, the hiring/recruitment process can be a significant task that takes up your valuable time and can also cost you a lot of money.
Did you know that virtual assistants can save a business up to 78% in operating costs? That's why they're the perfect solution for seeking additional help. We believe in providing cost-effective solutions for outsourced assistance. With Virtual Gurus, we do all the heavy lifting to find you a VA that is right for you, for the hours you need.
Only need 10 hours of help a month? No problem. We've designed our virtual assistant packages to meet the needs and budgets of any size of business, so you can gain the support you need without worrying about time or money. At the same time, hiring a virtual assistant with Virtual Gurus rather than a full-time employee is also a great way to keep recruitment costs down. We will do all of the work of finding and matching you with the best talent for your role.
Personal Well-Being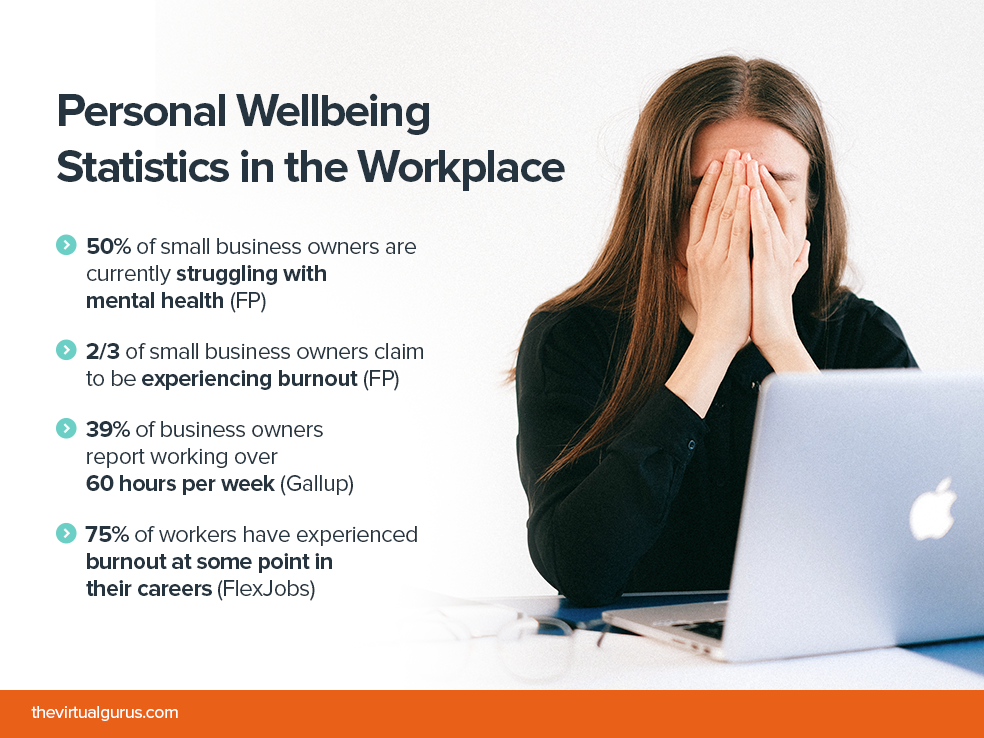 When employees don't have good mental health, efficiency and productivity can diminish, which greatly affects the overall operations of a business. If any of the following signs resonate with you, it may be time to hire a virtual assistant.
13. You're having a hard time maintaining a good work-life balance
Unfortunately, as many leaders and business owners know, tuning out of work can feel impossible and "free time" can feel like a foreign concept.
Instead of overworking yourself and neglecting your leisure time, it's time to direct attention to your personal well-being and offload tasks to a virtual assistant. Handing off repetitive tasks like bookkeeping and data entry will help you regain control of your mental well-being. By allowing you to focus on what really matters to your operations, you can spend more time doing what you love and maintaining a healthy work-life balance.
14. You're starting to feel burnt out
Do you feel like work is getting the best of you? You're not alone. According to FlexJobs, 75% of workers have experienced burnout at some point in their careers. Often, burnout leads to decreased productivity and efficiency, affecting core business operations and the overall well-being of employees.
Having a trusted virtual assistant by your side that can handle some of the tasks on your long to-do list will help you get back on your feet. With support in sales, bookkeeping, data entry, social media, and more, virtual assistants can take some of your workload off your plate and help bring back your spark while increasing productivity in your workplace.
Hiring Virtual Assistants is Easy With Virtual Gurus
Did you know, on average, virtual assistants are 13% more productive than full-time employees?
Virtual assistants can help you with core operations, specialized tasks, or your long to-do list that you've been struggling to complete. Instead of searching the internet for the best virtual assistant for your business, trust Virtual Gurus to find virtual assistants that have the specific skills your work requires.
Virtual Gurus has helped multiple clients prioritize what's important for achieving their goals, take back valuable time, save on costs, and grow their businesses. Book a consult with our Solutions team to identify your unique needs and discover how we can help you grow.
Don't struggle on your own any longer; Virtual Gurus is here to help.