BACK
Creating an executive email management system: 2 perspectives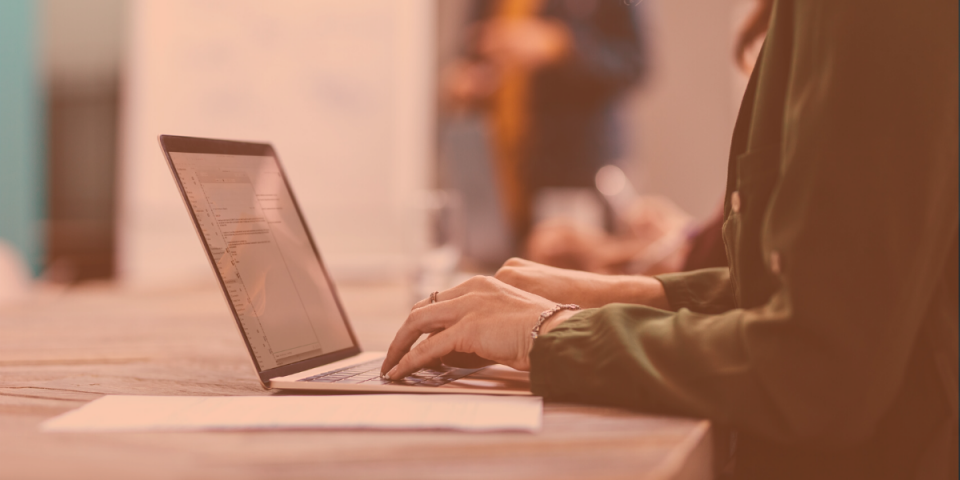 ‍Part 1: The virtual executive assistant's take
"Ooh, I'm a sucker for a good spreadsheet!" is, I'm a little abashed to admit, among the phrases I spoke to my future boss in our preliminary interview. Luckily for me, she has a great sense of humour, and happened to be looking for somebody who could wrangle a spreadsheet with aplomb.
Prioritization: Sorting through the inbox
When she brought me onboard as her executive assistant, my boss asked that I take a look at her email management system to see if we could come up with something cohesive, centralized, and easy to use. I opened a doc and we started brainstorming.
I started with a basic quadrant breakdown – Urgent vs Tomorrow's Problems and Action Required vs For Review. This helps prioritize the workflow in the day in a grid that's easy to understand and visualize.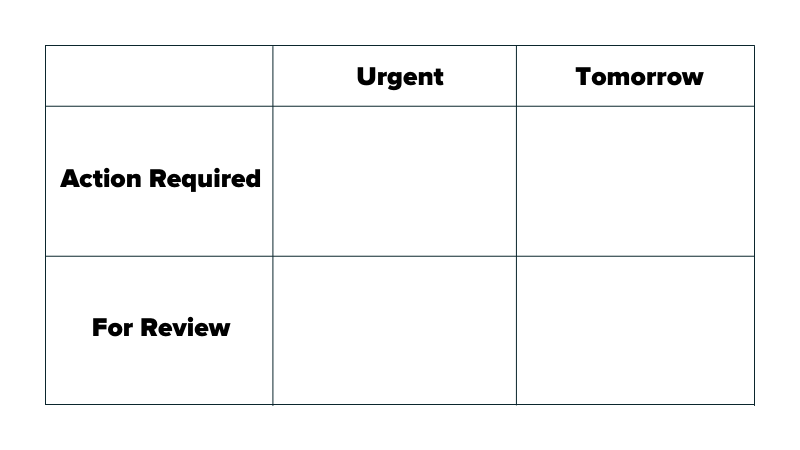 As with any new relationship, learning each other's communication patterns is the first challenge. A simple grid like this worked for us to establish which tasks would fall under which categories, and for me to learn the ins and outs of the business itself.
Refining the system: Google sheets to the rescue
While simplicity is beautiful, I knew we could do one better – so I made a spreadsheet!

‍
Offering more specific categorization without losing the simple visibility of the quadrant system, a task management spreadsheet like this allows for precise customization. On a call, I screenshared the bare-bones sheet so we could build it to her specs.
She wanted to be able to see the date the task was assigned as well as the "type" of task it was – Documents for Review, for example, could thereby be lumped into a pre-booked afternoon for mass perusal. *thumbs up*
We also decided on a colour-coordination scheme that matched the one she was already using. When a specific Urgency or Status is selected from the drop-down menu, it automatically changes colour. Conditional Formatting and Data Validation functions are your best friends here!
Finally, for extra satisfactory flair, I added a checkbox beside the task to be clicked when complete. When the box is checked, the row has a line drawn through it for easy visualization of your progress towards inbox zero for the day.
The finer points of email management
The task management spreadsheet has been a success for our teamwork, and I'm just getting started! By navigating email permissions we can attach links to relevant docs and emails in her inbox. We can also colour-coordinate our notes to each other, to more easily see when someone else has updated the sheet. Currently I manually migrate the crossed-out tasks at EOD to another sheet, but I'm working on a way to automate that. Calendar integration could come next, too. The sky's the limit!
Building systems and relationships at the same time
As much as I love a good spreadsheet, I must say the best part of the process for me has been getting to know my boss. Working together towards something mutually beneficial that we can be proud of has got our working relationship off to a great start. I'm looking forward to seeing what we can accomplish together – a great spreadsheet is just the beginning!
‍
Part 2: The boss's take
I used to live in my inbox. Nothing got done if it wasn't in an email. I triaged from most recent and went backwards. (I probably shouldn't admit this but I had over 600 unread emails). You can see how this would be a problem. And as our team became more and more reliant on Slack for communication, I spent less and less time in my inbox. Which created an even bigger problem.
So, when Breanna started as my VA and we discussed my goals, the first thing I knew I needed help with was getting the inbox under control.
I'd tried a few things in the past – tagging and folders primarily. But since I wasn't in my inbox, that didn't really help much. I still needed to sort through what was important and go from there.
I knew what my goals were:
1. Prioritize incoming emails
2. Delegate any emails that I didn't need to deal with to the appropriate person
3. File anything of interest for later reading
4. Manage subscriptions
5. Delete spam
Testing and iterating
At first we tried using Slack, where Breanna would give me the highlights of what needed my attention and what could wait. This was okay and achieved the goal of keeping me from going down the rabbit hole. But depending on the amount we slacked that day, the message would get lost and so didn't necessarily keep me on track to get the important things done.
After some time working together, Breanna let me know she'd been brainstorming how to tackle my inbox and asked if I'd be okay with her spending some time building out a skeleton. It was a great way to approach things… rather than going full out on building the solution, she gave me a prototype that we worked through together. Then we put it into action.
First it was a google doc but that was clumsy to keep updated. The next iteration was a spreadsheet (and for my team who know how much I dislike spreadsheets, they'll be pleasantly surprised about how much this one actually works for me.)
Finding our groove, and freeing up time!
Breanna reviews my email a couple of times a day and adds anything that I need to deal with to the spreadsheet. She categorizes each entry by status (follow up, review, action required, perusal, in progress and complete) and urgency (today, tomorrow, this week, etc.). The links to relevant docs are right in the spreadsheet as well so I don't need to go searching for them.
As I complete the items on the list, I can change the status to complete and then they get filed. Breanna keeps an eye on the due dates and gives me a nudge if I'm coming up to a deadline. I can also add in notes and ask her to do a first pass on written docs or confirm the math on expense reports. This saves me a ton of time and keeps me on track.
When I do get the urge to hop back into my mailbox, anything on the email management spreadsheet is starred so I can do a quick review of only starred emails and decide if I want to quickly respond.
There are still a few kinks that we're trying to work out but so far, it's freeing me up from the time I used to spend trying to deal with the number of emails I receive.
A solid foundation for even greater productivity
I love that Breanna used a completely different and out of the box solution to my goals. And that she took the initiative to develop a prototype that she thought would work for me once she got to know how I work. Next up… my Google drive. 😉